Today, a strong online presence is crucial for businesses to thrive and connect with their customers. A perfect example of this is Ballandean Estate Winery, a prestigious establishment nestled in the heart of Queensland's Granite Belt wine region. Recognising the need for a modern and user-friendly website, we embarked on a journey to revamp and elevate the online experience for this renowned winery.
Understanding the Client's Vision
Before diving into the design and development process, it was essential to comprehend the client's vision and goals. Ballandean Estate Winery wanted a website that not only reflected the elegance and charm of their vineyard but also provided a seamless platform for customers to explore their exceptional wines and offerings.
Designing a Timeless Aesthetic
The first step was to craft a design that encapsulated the winery's character and heritage. we opted for a minimalist yet visually captivating approach, utilising a colour palette inspired by the natural beauty of the Granite Belt region. Soft earth tones and hues were chosen to evoke a sense of sophistication and warmth.
The homepage featured a stunning hero image of the vineyard, immediately immersing visitors in the winery's enchanting atmosphere. To ensure a smooth navigation experience, we implemented a clean and intuitive layout, allowing users to effortlessly explore different sections of the website.
Showcasing the Wines
Central to the redesign was the creation of a dedicated section to showcase Ballandean Estate Winery's impressive selection of wines. Each wine was also given its own page, complete with detailed descriptions, tasting notes, and high-quality images.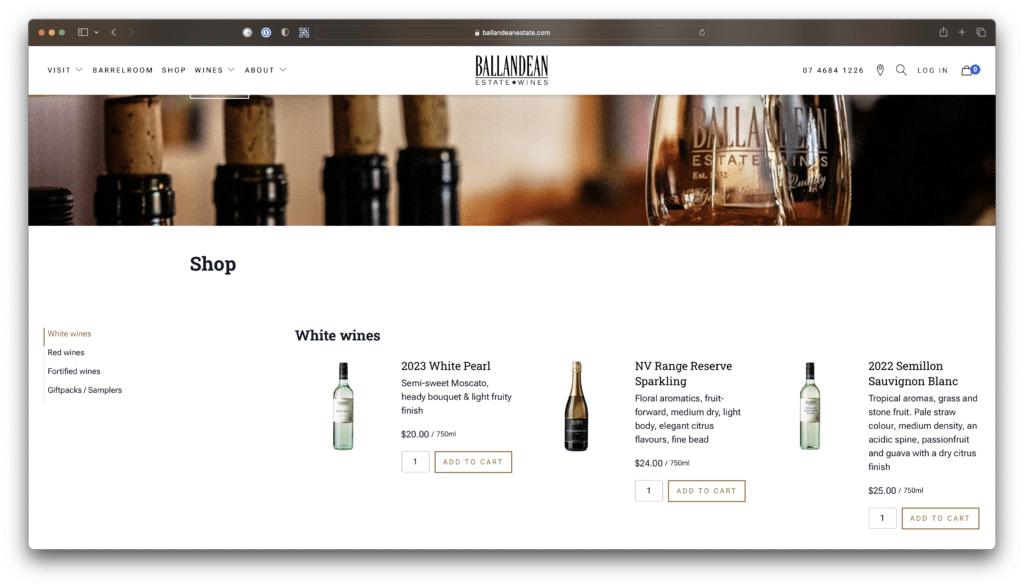 Engaging Content and Blog
Recognising the importance of regularly updated content, we developed a blog section where the winery could share stories, news, and insights about their wines and the winemaking process. This not only established Ballandean Estate as an authority in the industry but also provided valuable information to wine enthusiasts.
Incorporating Modern Functionality
A website is only as good as its functionality, and we aimed to provide a seamless experience for visitors. Implementing responsive design principles, I ensured that the website looked and functioned flawlessly across various devices, from desktops to smartphones. Furthermore, we integrated an online booking system, allowing guests to easily reserve tastings, tours, and events directly through the website.
Seamless E-Commerce Integration with Commerce7
A crucial aspect of modern website development is the seamless integration of e-commerce capabilities, allowing businesses to expand their reach and connect with customers on a global scale. For Ballandean Estate Winery, achieving this functionality was paramount to their online success. To meet this demand, we embarked on a journey to integrate Commerce7, a leading e-commerce platform tailored specifically for the wine industry.
Why Commerce7?
Commerce7 offered a comprehensive suite of tools perfectly aligned with Ballandean Estate Winery's goals. Its feature-rich platform allowed for an effortless integration of an online wine shop, wine club management, customer relationship management (CRM), and Point Of Sale (POS) functionalities. This powerful combination ensured a smooth and efficient purchasing process for customers while providing the winery with the tools to nurture and maintain valuable client relationships.
Creating an Immersive Online Wine Shop
With Commerce7's capabilities at our disposal, we designed and developed an immersive online wine shop for Ballandean Estate Winery. Each wine variety was beautifully showcased, complete with detailed descriptions, tasting notes, and high-resolution images. The user-friendly interface allowed customers to effortlessly browse and select wines based on their preferences. Integration with Commerce7's secure payment gateway ensured a safe and hassle-free checkout process, enhancing the overall shopping experience.
Elevating the Wine Club Experience
Commerce7's wine club management tools provided an elegant solution for Ballandean Estate Winery's wine club members. We seamlessly integrated a membership portal where users could easily sign up for the wine club, manage their subscription preferences, and receive exclusive offers and benefits. This personalised touch not only enhanced customer loyalty but also streamlined the winery's membership management processes.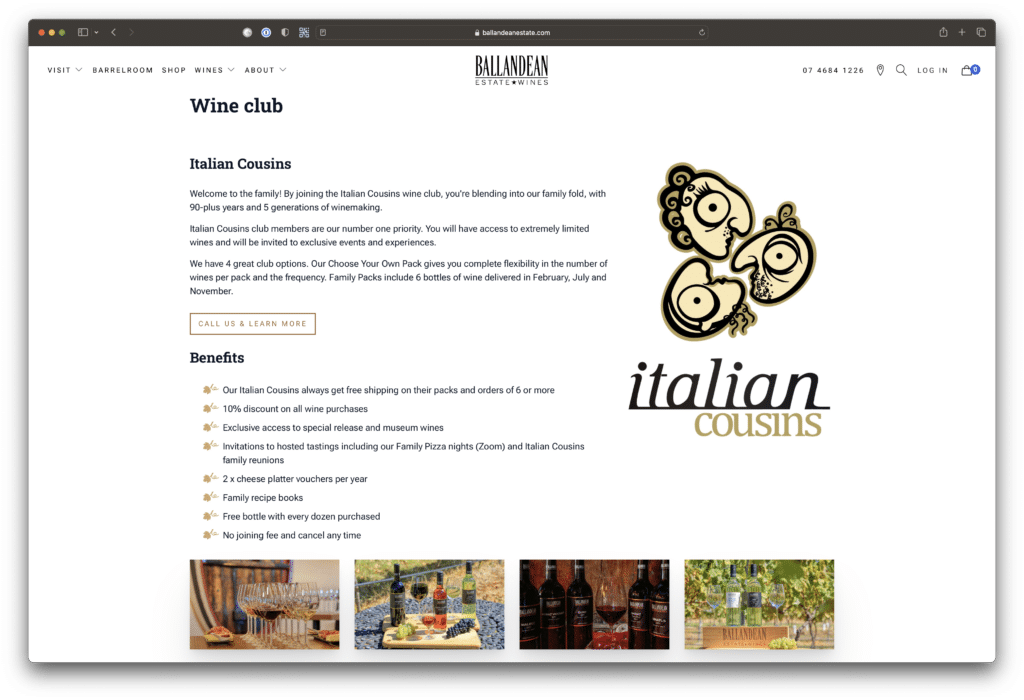 Enhanced Customer Relationship Management
The integration of Commerce7's CRM functionalities proved to be a game-changer for Ballandean Estate Winery. The platform enabled the winery to gather valuable customer data, track purchase history, and tailor marketing campaigns to specific customer segments. This data-driven approach allowed the winery to engage with customers on a deeper level, providing personalized recommendations and offers based on individual preferences.
Mobile-Friendly and Responsive Design
Recognising the importance of mobile accessibility, we ensured that the Commerce7 integration seamlessly extended to all devices. The responsive design allowed customers to browse, shop, and manage their accounts effortlessly, whether on a desktop, tablet, or smartphone. This mobile-friendly approach further expanded the winery's reach and accessibility.
Final Thoughts
We didn't build this alone and would like to thank the tireless efforts of Brooke Billet as well as the input and guidance of Leeanne Puglisi-Gangemi and Robyn Puglisi-Henderson from Ballandean Estate Winery. The journey of redesigning this website was an enriching experience that blended aesthetics, functionality, and the winery's unique essence. By seamlessly marrying modern design principles with user-friendly functionality, I believe we were able to create a digital space that captures the heart and soul of the winery while providing visitors with an immersive and enjoyable online experience.