Recently I was asked by a customer of mine if I could set up an area that was only available to their clients for viewing training videos and other sensitive content for their clients eyes only. Basically they wanted a simple way that they could just manually add a user and allow that user to have access to the client content area. While there are a number of ways this can be accomplished using paid plugins like MemberPress or or Restrict Content Pro it can be done quite easily using a free plugin, Members and the Oxygen Builder itself. Members is a free roles and capabilities based WordPress membership plugin.
There are 9 steps involved in creating a customer only page.
Step 1 - Install and activate the Members plugin from the WordPress repository.
Step 2 - Go to members -> settings and check the following "Enable the role manager", deselect all other settings.
Step 3 - Add a new Member Role called "Client" and edit the capabilities so that everything is "Deny" except for the "Read" property.
Step 4 - Add a test client as a user and assign them the newly created role of "client" (minimum requirements for adding a user is a username, an email address, role and a password). You might want to deselect "Send User Notification" when you are adding the user and also after it has been created you should deselect "Show Toolbar when viewing site". 
Step 5 - Create your page as you would normally and add two sections one that has the restricted content and one that has the WordPress Login Form added to it (Add -> WordPress -> Login Form). Note: You might want to add the page to your main menu so you can find it easily when you are finished.
Step 6 - Add your conditional settings to the Client Login section by selecting it and clicking the Conditional Settings icon, then clicking the "Set Conditions" button.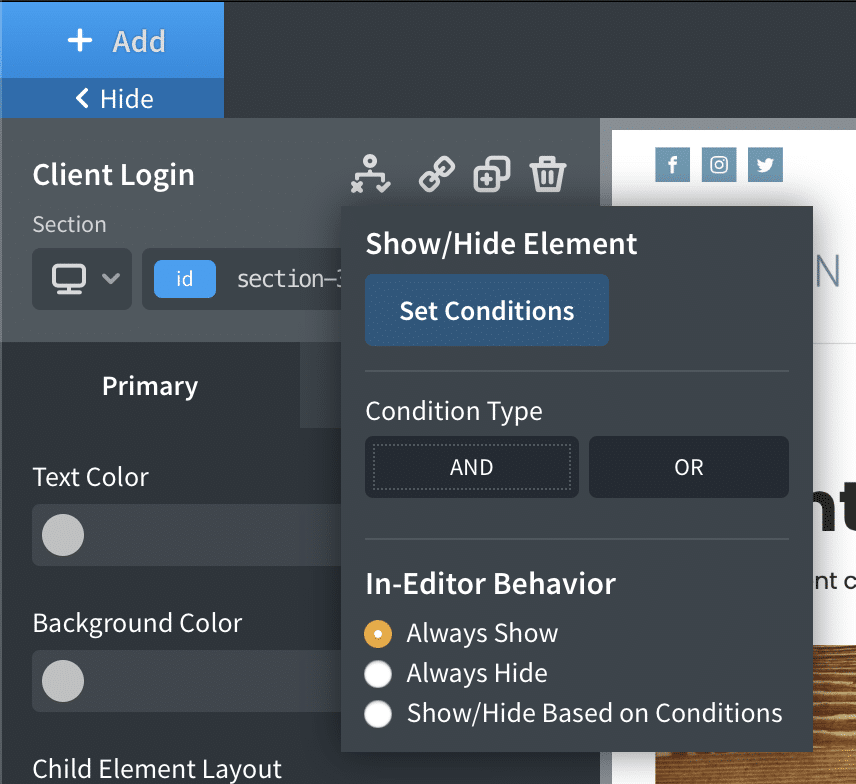 Step 7 - Add a condition based on "User Role" not being equal to (!=) "client". This means that this section will only display if the logged in user is not a "client" or are not logged in at all.

Step 8 - Repeat this process for the "Client Content" section except this time select "User Role" IS equal to (==) "client". This means that this section will only display if the logged in user is a "client".

Save the page and go to the front end and log out. You should now see something similar to this.
Step 9 - Log in as the user you created in step 4, you should now be able to see the client content.